A person is unable to read a book clearly when kept at a distance of 25 cm from his eye
2 answer
A person is unable to read a book clearly when kept at a distance of 25 cm from his eye. Name the defect How can it be corrected? Draw ray diagrams for (i) defective eye (ii) corrected eye and explain them.
Hypermetropia or long sightedness
It is corrected by using a convex lens of suitable focal length.
The diagrams are as shown: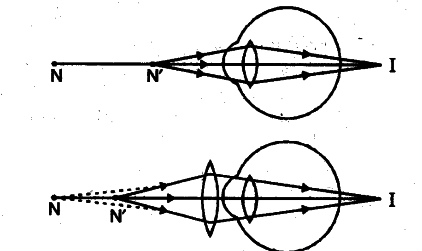 (i) Defective eye: Rays from the object at N are focused beyond retina i.e., near point goes away from eye.
(ii) Corrected eye: Using a converging lens makes the image at retina.